Pickleball coaching is available at the K-W Badminton Club in partnership with the Kitchener-Waterloo Pickleball Association. We have trained expert coaches available for group and individual lessons.
Coaching Fee Scale
Beginner classes include:
Start with hand/eye coordination
How to hold the paddle
Body positioning when hitting the ball
Hitting the ball over the net
Consistency with returning the ball
Learn the basic rules, how to serve, two bounce rule, learn the kitchen rules
Non volley zone faults
Learn scoring and points
Rate:
$30/person for a group of four MAXIMUM for one hour
$60/person for private lessons
Intermediate classes include:
Can start judging where the ball is going
Starting to learn and be aware where their body is and where the lines are on the court
Work on paddle strokes
Work on not always volleying the ball but letting it bounce and place it
Work on control of strokes
Start to learn the dinking game
Work on directional control
Learn when it's appropriate to smash, volley and dink in the game
Learn how strategy and skills can make a higher level of play in the game
Learn how to adjust their style of play on the court as well as learn styles of opponents and their weaknesses
Rate:
$30/person for a group of four MAXIMUM for one hour
$60/person for private lessons
Pickleball coaching now available at the club! We are pleased to announce that in partnership with the Kitchener-Waterloo Pickleball Association (www.kwpickleball.com), we have arranged for paid training programs for pickleball. Check back for the next available training dates.
INTERMEDIATE LEVEL
COACHES: PATRICIA AND PAUL
BEGINNER LEVEL
COACH: PATRICIA
Cost for these sessions: $20/person, minimum of 4 students required. Please register with club front desk staff, or contact the instructors directly at: kwpickleballassociation@gmail.com
Meet our Coaches
Hello! Everyone calls me PB (nick name) or Ms. Pickleball. I am an enthusiastic Pickleball Player and want to make sure everyone has an opportunity to try this addictive sport. I learned to play 8 years ago at a local community center. I found the game was easy to learn and thought that the community would enjoy it as well. In the last five years I have been playing Pickleball 4-5 times a week as its quite addicting. I teach Beginner-Advanced levels throughout the Kitchener-Waterloo Region and play in Local, Provincial and National Tournaments. In April 2016 I won two Bronze medals (ladies and mixed doubles) in the largest PB tournament in the world in Naples Florida. In 2015 won gold in Provincials and Silver in Nationals. I am also the founder and President of the Kitchener-Waterloo Pickleball Association (KWPA) and we are always looking for ways to promote and help the community. KWPA is currently overseeing a pickleball league in Ontario; we are doing a pilot season with three major cities-Hamilton- London and Kitchener. Check us out at kwpickleball.com. Playing Pickleball has given me the opportunity to meet a lot of nice people who also enjoy playing. I look forward to meeting you, playing and sharing my enthusiasm. I not only play PB, I also volunteer on other association boards running programs, camps and special events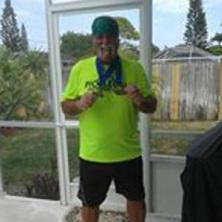 Paul Leeder
Hello! I am Paul. As a past Ontario Tennis Champion, I have always been interested in racquet sports. Upon being introduced to Pickleball,about three years ago, I have been "addicted to the game", ever since. I have enjoyed learning the strategies of the game and, in turn, teaching the dynamics to other keen players. And last, but not least, I get an opportunity to meet some of the nicest people who play this game we call Pickleball. My Pickleball doubles partner and I won silver in the 5.0 category in Naples Florida (US Open) in April 2016 and gold in the Pickleball Association of Ontario (PAO) Tournament in 2015, 2014 and 2013. In 2014, we also won gold in the London, Ontario Pickleball Tournament. When I was in Florida in 2014, I played in the Singles, Men's Doubles along with the Mixed Doubles at the East Naples Skill Level Tournament winning gold in each event. So as you can tell I am passionate about Pickleball and I look forward to sharing my skills, and enthusiasm, with other Picklers.