Come check out our Pro Shop at the club or shop online!
Our pro shop provides an array of equipment and services for your badminton needs!  We are a badminton specialized store so we carry items that may not be found elsewhere within the region.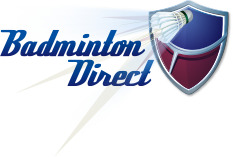 Badminton Direct is a quality reseller of professional badminton racquets and accessories. Click the link above to navigate their custom online store and offering. All purchased items are supplied by Badminton Direct, shipped directly to you (not the club.)
Our club receives a commission from all sales, so using this online store for your purchases will help the club financially. Badminton Direct carries some of the best brands, at great prices with discounts only available to our club members. Take advantage of these savings and click the link above to browse their fantastic selection. The more of our club members that sign-in and create an online account (no purchase required), the better it is for us!
Click here to access the webpage for our store: K-W Badminton Direct Online Store

The K-W Badminton Club is proud to be a Li-Ning Authorized Dealer!  You will find specials on Li-Ning equipment that are available ONLY through our club, as well as have the opportunity to demo racquets and order items through our pro shop. K-W Badminton is a Platinum Li-Ning dealer and we carry racquets, bags, clothing and shuttlecocks!  The club also receives commission for sales from the club and will can delivered to the club directly.
You can also contact our local dealer Andrew Ma for more advice and details on any equipment.