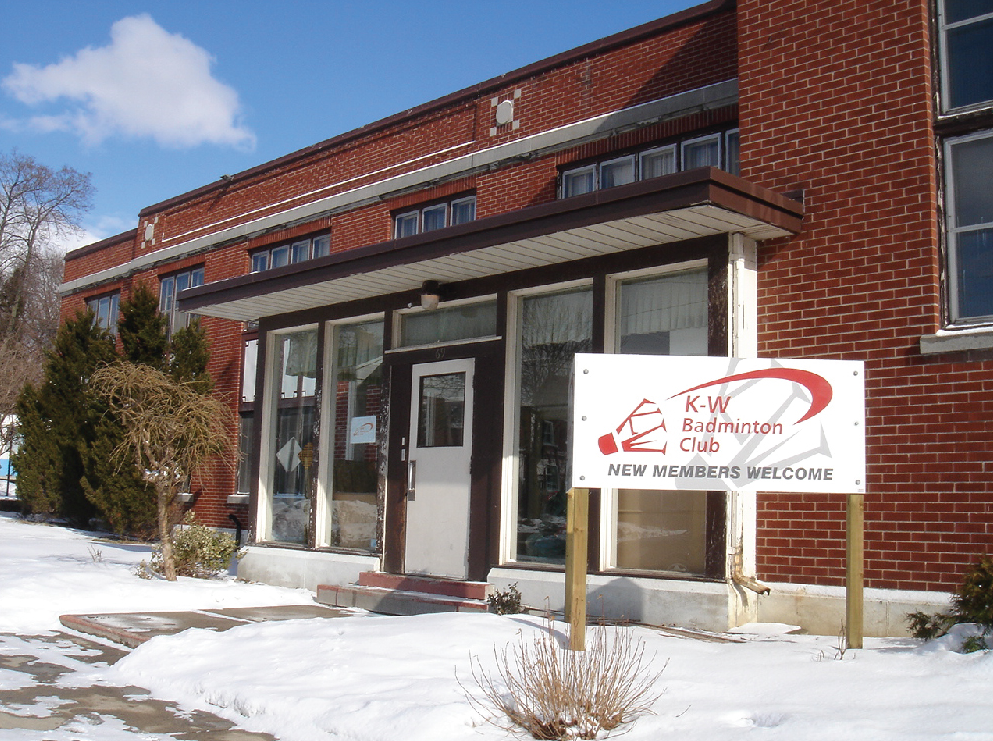 The K-W Badminton Club in Kitchener has six badminton courts which are among the finest in Ontario. It is one of the few facilities dedicated to just badminton, with world-class hardwood floor courts under 35-foot high ceilings and two large viewing galleries.
The club's operating mission, for the past 80+ years, is to foster the development of the sport of badminton both within the region and the province, by making the sport accessible to all members of the community and to all levels of play. This philosophy, along with the hard work of determined volunteers, has built the club into a thriving organization having in excess of 400 members.

The club was originally part of the K-W Granite Club, built in 1927, operated by a management board responsible to the Board of Directors of the Athletic Association of Kitchener and Waterloo, Limited. The curling members of the K-W Granite Club moved to new premises in Waterloo in 2003 and the building was sold to the private sector. Upon the sale, the badminton members struck a deal with the new owner to remain in the building as tenants. A new not-for-profit organization was created, incorporated as the K-W Badminton Club Inc., and it is operated and managed by a volunteer Board of Directors.  The Club purchased the entire building in November 2013 and has plans to create a multi-sport centre while allowing for much needed future growth for badminton.  
Fees are affordable enough for parents to offer their families the ability to participate together in a life-long sport. The junior program is one of the best in the province, developing tournament-calibre players who continue to play in tournaments well into adulthood. The recreational player also receives benefits from membership – good games, good fun and lasting friendships. Some members are still playing in their 80's! Guests and new members are always welcome any time of the year.
Badminton: For fun! For competition! For fitness! For life!